Every adventure demonstrates that our lives are not governed by the monotonous routine.  And every kayak trip is like a good cigar:  one of the most enjoyable parts is the memory of it.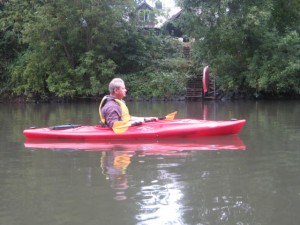 But I found my most recent kayak trip – along the Tualatin River in Oregon between Brown's Ferry Park and Cook Park – to be very enjoyable even while it was still happening because I was feeling very de-stressed and relaxed.  In fact, as I had my legs stretched out in front, as we were drifting downstream, I closed my eyes and felt like I could take a nap – right there in the middle of the slow-moving river.
Both my wife and I were outfitted in Necky kayaks.  I was in a Rip Ten-Six, and she was in the Manitou Sport.  These are the two "Recreation" kayaks that Necky offers.  Rather than boring you with the Necky kayak specs, simply click on this link to read all about them:
http://www.neckykayaks.com/kayaks/recreation_kayaks/
In short, I love the Necky Rip Ten kayak, especially with the Comfort Flex seat.  I hope I can afford to buy one someday.  In the meantime, we rent our kayaks – which includes the personal flotation device (PFD) – at Alder Creek Kayak & Canoe.
Out on the river, we saw a Great Blue Heron – the very majestic, large, blue and gray bird – not just once, but in two different locations – unless we actually saw two, different herons.  The second time we saw it, he was standing on one leg, on a fallen tree that was overhanging the river.  Without paddling, I drifted very close to him – within eight to ten feet – and he didn't move at all, and I could see clearly the details of his feathers, legs, beak and eyes.
A female duck swam straight up to us, completely unafraid, also twice (like the heron) – first when we were paddling upriver, and again when we were drifting back.  We wondered if she inadvertently bonded with a kayak when she hatched.  She was probably hungry, looking for a handout.  I made a mental note to bring some bread with me the next time I paddled along this stretch of the river.
When the geese and ducks were landing en masse, we could hear the sound of their wings.  I adore the quietness that permits this kind of auditory experience.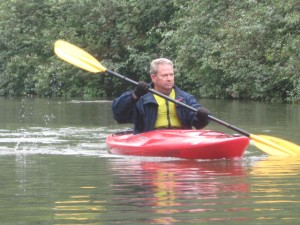 At one point paddling upstream, we encountered a very shallow and swift spot in the river.  So for a moment, we were paddling very hard, sometimes scraping the rocks on the bottom, but not moving.  With a little extra effort and adrenalin, we soon made it past that obstacle.  And already I was looking forward to this spot on the return trip, when we would be shooting downstream, rather than struggling upstream!
We also practiced exiting and re-entering our kayaks – again twice (like the duck and the heron) at both Tualatin Park and Cook Park.  At both stops, we enjoyed our snacks, which included picking fresh blackberries along the bank.
Many times we saw fish jumping, often clear out of the water.  I thought about the possibility of fishing from a kayak.  Briefly, we felt a slight sprinkle, even though the sun was shining that day.  Just past Tualatin Park, we crossed under a pedestrian/bicycle bridge upon which we once walked and said, looking down at the river, that one day we'd be down there in a kayak, and now we were doing it!
Thus, every adventure demonstrates that our lives are not governed by the monotonous routine. 
Lee Cuesta
(August, 2010)