Introductory note from Lee Cuesta:
Kathy Rasmusen is a Baby Boomer.  She lives every day in a world that many Baby Boomers are either experiencing or contemplating:  caring for their aging parents.  According to the book Generation Ageless by Smith and Clurman:  "13 million Boomers are caring for their retired, ailing parents.  In fact, …Boomers exhibit a stronger commitment than the prior generation to caring for their aging parents."**But this reality is not a drudgery.  As you can see in her article that follows, caring for her mother includes cruising together, which combines adventure and discovery.  Kathy provides important information to remember as you travel with your parent, or parents.  Her article focuses on the adult-child's role, presenting ten invaluable tips that Baby Boomers need to know.Feel free to print this article and give copies to your friends, or simply tell them to visit this website.  In addition, this article may be either reprinted or adapted, as long as this website, http://www.leecuestalive.com, is acknowledged as the source.   
Cruising With Your Parent
Article and photos by Kathy Rasmusen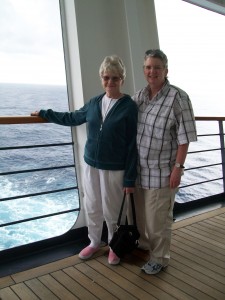 This February, my 78-year-old mother and I enjoyed a Caribbean – Panama Canal cruise with a group of 45 people from Portland, Oregon. All my experiences are based on my cruises with Holland America.  I'm sure other major cruise lines are similar, but maybe not exactly the same.    
1.  CHALLENGES.  Even a great trip like this has challenges –  especially when it involves a flight and a cruise.  Our first challenge was airport security in Portland, Oregon.  Mom had a hip replacement last year, and we knew it would subject her to a full-body pat-down.  But that early morning, when the alarms went off, she'd forgotten about her hip and began to explain she had nothing in her pockets.   
My role was to step in and remind her – and  the TSA agent – about her hip.  Nevertheless, the agent led her to the footprints painted on the floor to conduct a thorough pat-down.  So then my role shifted.  It became my responsibility to quickly pass through security, collect our things from the conveyor belt, and stay as close to them as possible.  This is the adult-child's role during airport security.  A few minutes later Mom was cleared to proceed to the boarding area.   
2.  EATING.  Keeping on a normal eating schedule is almost impossible when flying with long waits at the airport, delays and no meal service on most flights.  We always carry a couple bottles of Ensure, snacks and bottled water in case we start to feel weak or shaky.   
3.  ONLY WHAT SHE NEEDS.  When we travel, I hold all the tickets and boarding passes, only giving Mom what she needs at the time.  I try to make things as easy for her as possible.  On this trip we changed planes in Denver.   
Our layover in Denver was a little over an hour, which was not bad.  But as we sat in the plane waiting to take off for Miami, a problem with our plane was discovered.  So we had to get off the plane and wait for another one.  This delayed our trip for two hours.   
It also caused a slight problem.  Usually once you get on a plane, you don't need your boarding pass again.  Not so this time, since we had to re-board another plane.  Mom still had her boarding pass, but she'd stuck it in her backpack and it took us some time to find it.   
4.  STRESS.  Extra delays like this can add to the stress level, especially as everyone is getting tired.  But the stress is usually from events out of your control. So I try to be a calming factor.     
We finally took off, leaving the snowy plains of Colorado for the warm shores of Florida.  It was after seven that evening when we landed in Miami.  By the time we got to the hotel, we were very tired and after a small snack, we went to bed.   
5. FINDING YOUR WAY.  The next morning, we took the hotel shuttle back to the Miami airport where we met the Holland America representatives.  They had a bus waiting to take us to the dock in Ft. Lauderdale, where we boarded our ship, the ms Zuiderdam.  Learning to "navigate" on a new ship takes a little time.  It can be very confusing trying to find your stateroom. There were three sets of elevators fore, aft and midship to add to the confusion.   
Outside the elevators is a "You Are Here" diagram of the ship.  I used this, along with the sign by the passageway with the stateroom numbers, to get our bearings and to know what direction to go.  Staying oriented like this is another part of the adult-child's responsibility.  And every time we got off an elevator, we always checked the sign at the passageway that told what stateroom numbers were in that direction.  Odd numbered staterooms were on the starboard, and even numbers were on the port side.  Sometimes just a little patience and persistence are needed.   
6.  SECURE IN THE SAFE.  We had prepaid our excursions; so when we arrived at our stateroom, those tickets were there for us.  I made sure they were correct and kept them in our room safe.  I just took them out as needed, and I kept them until Mom needed hers to board the buses.  This is another aspect of the adult-child's role.   
7.    SHOULD YOU ATTEND THE SAME ACTIVITIES?  We also had three days at sea.  During these days, there are different activities on the ship available all day – from aqua aerobics, cooking demonstrations, history and travel lectures to live entertainment.  We took advantage of as many of these activities as we could.   
We planned our day the evening before and attended the same activities.  Mom is far from needing me right next to her 24/7; it is just kind of nice to stick close to her.  The reason is basically twofold.  We generally enjoy the same kinds of things, and we enjoy doing things together.  She kept saying if there was something I wanted to do that she could not do, to let her know.  It was very important to her I had a good time; she did not want to hold me back.    On a previous cruise together, during our day at sea, I had a massage and Mom went to the afternoon tea.    
8.  PLANNING.  Despite the online alternatives, I asked our travel agent to make most of the arrangements.  "A travel agent can often save you more money than you'll spend when you plan a vacation yourself," writes Linda Bowman.*  "Don't overlook these valuable professionals."   
But it was up to us to decide on the shore excursions we wanted.  Every port had a couple dozen excursions we could choose from.  Each night we both got a copy of the daily "Explorer."  This had information about the port we were visiting the next day.  Since life's brevity dictates that we might not travel this area again, I picked excursions for us that offered the most sightseeing.  This means that a couple days we were off the ship for over eight hours.    
How did we endure the day-long excursions?  We ordered breakfast the night before and had it delivered to the stateroom so we could eat as we got ready, rather than making breakfast an added activity.  Lunch was included in the excursion, but we carried Ensure, breakfast bars and water in case we needed them.  And we both were known to nod off during the ride, especially after lunch.   
9.  PACKING.  Cruising is the time to pack a little more than we normally would.  This is because during our ten-day cruise, we had three formal dinners.  Some people wear Tuxedos and gowns, but for the majority it is sport jackets for the men and a nice dress or pantsuit for the women.  On the non-formal nights, in the Vista dining room, the dress was 'smart casual.'    
 So we packed formal and smart casual – plus shorts, t-shirts and swimsuits for the Lido deck and the excursions.  We wore most things a couple times, but we did pack enough socks and underwear so we did not have to do laundry.  
10.  BONDING.  If you are planning to take a cruise with a parent (or parents), I am guessing you already have a good relationship with them.  I think this is very important.  A cruise should be a bonding experience, a time to bring you closer together.      
© Copyright 2011 by Lee Cuesta Enterprises   
Published at http://www.leecuestalive.com.   
________   
** Generation Ageless, by J. Walker Smith & Ann Clurman, 2007, HarperCollins Publishers.   
* Free Stuff & Good Deals for Folks over 50 (3rd Edition), by Linda Bowman, 2008, Santa Monica Press, LLC.